What is a car modification?
Car modification is a change made to a vehicle so that it differs from the manufacturer's original factory specification. The changes can be made to improve performance, aesthetics, or be purely functional. Car Modifications  Laws In India Are Very Strict.
There Have Been Many Instances In The Past When The Cops Seized Vehicles For Modification. What Are The Modifications That You Can Do On Your Vehicle Legally In India? Let's Find Out.
1.Body Wrap
Body wraps have become quite a trend in the Indian market. There are many garages and car shops that can install various types of vinyl wraps that look extremely good on the car. Body wraps can completely change the way a car looks and it can be applied to the complete vehicle or on certain parts like pillars, roof, bonnet etc. Applying body wraps is completely legal as it does not change the original color of the vehicle. However, if you want to paint your vehicle in a new color, you will have to get it endorsed on the Registration Certificate of the car by visiting the local RTO.
2. Tyre Upsizing 
One of the most common upgrades in India on a new car is the wheels. Many people go for a larger tyre and aftermarket alloy wheels to give a better stance to the vehicle and make it more noticeable on the road. Upsizing tyres and upgrading to aftermarket alloy wheels are not illegal. However, if you install truck tyres or very large tyres that affect the handling adversely, it can cause certain problems and the car may get seized too.
3. Body Kits
While a few body kits completely change the way a car look, others make the car look very aggressive. Most of the body kits are bolt-on and are completely legal. If the body kit does not change the structure (or chassis) of the vehicle, it is legal and can be used without any problems. In recent times, even car manufacturers have started offering body kits at their dealerships.
4. Suspensions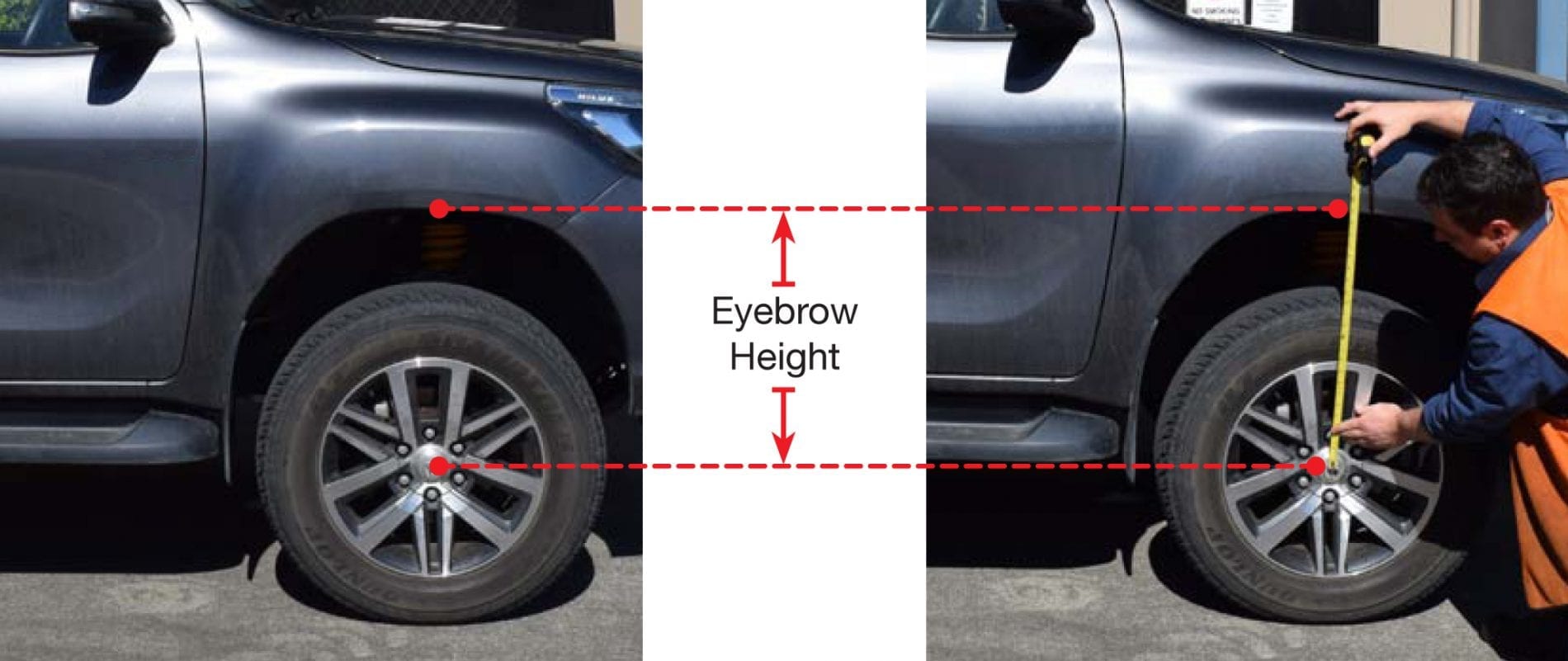 The suspension of cars can be replaced with high-performance aftermarket ones for a much better ride quality without any problems. However, changing the ground clearance by a big margin can get your car seized. A difference of a few millimeters from the stock suspension set-up is not illegal at all. Car owners can even use strut braces or suspension pads to easily stiffen their rides.
5. Auxiliary Lamps
While modifying the headlamps can be dangerous and illegal, adding auxiliary lamps are very safe. The auxiliary lamps should not be installed above the height of the stock headlamps and should be covered when riding on public roads. These lamps are used to spot any obstacle while doing off-roading or people on an expedition at night. It should be noted that the lamps mounted on the rooftop are illegal.
6. Led Inserts
While modifying the stock headlamp can be illegal if the correct bulb is not used, inserting an LED DRL in the headlamp is not illegal at all. DRLs help others on the road to spot your vehicle more easily during the day and there are many automobile shops that offer LED DRL installation in cars. Similarly, the tail lamps can be modified with LED inserts to make them look upmarket. However, changing the color of the tail lamp is a criminal offense.
7. Making The Car Plusher
The Motor Vehicle Act forbids changing the number of seats in the car. However, people can make the cabin feel much plusher with aftermarket modifications. Many owners get their door trims, dashboard and seats changed to leather to feel more luxurious. It is not illegal but one should stay away from the dashboard leather wraps if the car is equipped with airbags. The layer of leather can cause a delay in the airbag inflation that can injure the occupants seriously.
8. Fuel Alteration 
There are many shops that install LPG or CNG kits in your car and it is completely legal. However, one should make sure that the kit being installed is certified by the government. Altering the fuel with bad quality products can turn out to be catastrophic in an event of accident or leakage. Also, it is important to get the registration certificate endorsed after installing the fuel alteration kit.
9. Nitrous Oxide
If you've ever watched a movie about street racing, you've probably heard at least one of the characters refer to nitrous oxide or NOS. Nitrous oxide tends to wax and wane in popularity, but there's no disputing that it's a cheap way to add a lot of power to a car. Nitrous oxide works by temporarily increasing the oxygen in the engine, which enables it to burn more fuel and thus, extract more power. It is legal to drive a car that has a nitrous system installed, but in many states, the system has to be disabled for the car to be legal for street use. That is, the bottle that contains the nitrous oxide cannot be connected to the system. some jurisdictions suggest that using nitrous encourages unsafe driving. In short, it"s legal to buy and install a nitrous oxide kit, but if you get pulled over, you'd better be able to prove you weren't actually using it.
10. Sport Seats
Seat upgrades are popular car modifications, whether you're a novice racer or you just want to look like one. A set of sports seats looks cool, and if you choose the right ones, they can be much more comfortable and supportive than your car's stock seat. Sports seats can even help improve your driving position. Many manufacturers of actual racing seats caution buyer that they are not suitable for street cars, mainly because racecar seats are designed to be used with race harnesses, which are not legal for use as an alternative to a car's factory seatbelt. However, some manufacturers, like Recaro make sports seats that are legal for street use. Just make sure you can use your factory seatbelt and that installation won't disable any of your car's airbags.
Seat upgrades, like these sports seats, can be much more comfortable and supportive than your car's stock seats.
How do modifications change the price you pay for car insurance?
Insurance is based upon risk, and when quoting for cover insurers use a number of factors before arriving at a price.
Car modifications can seriously affect how insurers assess your car insurance policy in two key areas:
Risk of Accident – Modifications that change the look and performance of your vehicle are assessed by insurers to be a higher accident risk. These include engine changes, sports seats, body-kits, spoilers, etc.
Risk of Theft – Some modifications, such as phone kits or performance modifications, also increase the chance that your vehicle is broken into or stolen.
Analyzing information on 2.3 million modified vehicles, our number-
crunchers produced the price guide below to show the effect each type of modification has on the cost of car insurance costs.
In general, many of the performance and aesthetic changes made to vehicles will increase the cost of cover.  Interestingly, insurers even rate specialist paint and decals as a higher risk, and 'go faster stripes' and rally numbers are cause for concern when considering the cost of cover.
On the other hand, performance and aesthetic changes such as tinted windows and alloy wheels are both more commonplace and considered low risk.
There are some functional car modifications, such as aftermarket fitted satnavs and phone kits, can also increase insurance costs because they are considered a high theft risk, whereas others can reduce premiums.
For example, parking sensors mean you are less likely to have a prang when reversing while having a tow bar means that when hooked-up you are spending more time driving at a moderate pace.
Advice on ensuring a modified car
So you've modified your car and you're looking to ensure it, here are some practical tips on what to consider:
Always tell insurers about modifications made to your car, as not declaring could invalidate your policy. When you run quotes with MoneySuperMarket you'll be asked about modifications on the application screen – make sure you don't leave anything out.
If you're changing your car from the factory specification, always tell your insurer at the time you make a change. Different insurers have a different view on what constitutes a modification, so it is always best to check whether your insurance policy is impacted.
When renewing insurance for a modified car, always run a number of quotes as this could be an easy way to save money. Each insurer has a different view on risk, so the comparison is a good way to find the cheapest.