What is Google Question Hub and how to use it?
Many people want to know what is the Question Hub that Google has created for the publisher? Recently, Google Question Hub Event was organized in Delhi's Pullman Hotel. Over 400 bloggers and YouTubers contributed to this in the entire India year. In this event, Google has released its new two tools, publicly released Question Hub and Navlekha. So today I thought why you should give people full information about this new tool, which will help these new content creators and bloggers to write good and valuable content further.
Being a blogger, I have experienced this problem as to whether the content is so helpful to people that such a free tool was not available to Hindi bloggers earlier. But with the coming of the Question Hub Tool, it can easily solve the problem with the content. Here today we will be providing complete information about this article Google Question Hub Tool. Then let's begin without delay and know what the tool is and what is the question Hub, and how it is going to help a new blogger write good articles. In the end part of this article, I have shared some important information with you that you may not know about, so read the entire article carefully.
What is Question Hub?
Google has created Question Hub primarily for Content Writers or Bloggers. Its main purpose is to keep those questions in front of the bloggers whose answers users want to know but they are not available on the internet right now. This will allow bloggers to understand what users want to know in the end and therefore they will write their own article on the same topic. This Question Hub Tool is absolutely free. And it can use any blogger or content creator, but before that, they must have a Hindi blog. Otherwise, it can not be of any use to them.
Google has made it especially for bloggers. That's because Google has learned from research that content in Hindi is only 0.1% where content in English is about 50%. In such a country, India is more of a Hindi-language country as there is a lot of need for Hindi content as there are a lot of users reading and understanding Hindi. There are so many content creators who do not have the answers to the questions of the people and they are not able to know which point they are going to write in the last article. The only problem with this problem is the Google Question Hub Tool, in which bloggers know about the more frequently asked questions. So that they can provide better answers to people's questions.
Well, this tool has not been fully developed since it can add many more features to it, which can help the bloggers further. Yet Google has given some access to early access to some bloggers, and they are very well embedded in this tool by taking good and great feedback from them. These early access programs included many different category bloggers, including Hindime.net (which is our blog). Therefore both Google and Bloggers have contributed in developing this tool. Let us now know how the Question Hub works in the end.
How Does Question Hub Work?
The tool of Question Hub has been made very simple. Its UI interface is also very comfortable. In this, the bloggers will receive information about the questions of users whose issues have not been answered before. You people must have begun to realize that when you want to find a question, many times you do not get a proper answer to your question because that is because a content creator has never written a reply to that question or Despite not writing it has not been published. In order to overcome such difficulties, Google has developed the Question Hub Tool, which will make it easier for publishers to answer the questions whose answers they know but they did not get these questions.
Now, if a user does not get a proper answer to his question, then in the google search, the option of feedback remains in front of him so that he can paste his question in it. Like a user types in a box of Google feedback and submits their question, then those questions also add to the question hub tool.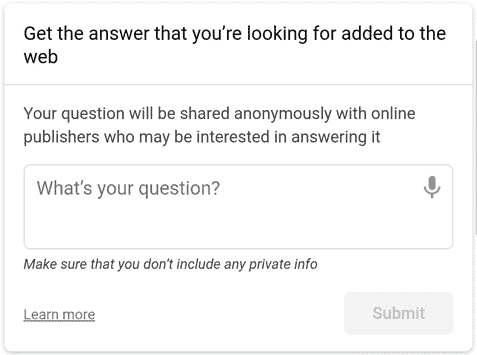 By the way, you might be thinking that users would be submitting millions or crores of questions, so what questions are all added to the question hub tool? So this is not an answer because it is not appropriate to do so because most of the questions are not quite correct and there are many questions which are similar, so Google developed some such algorithms. Are those who can filter out the extravagant questions. The quality of the questions is also correct and the bloggers have no problem in answering them.
Question Hub tool first divides all the questions in different categories such as Fashion, Education, Technology, Finance etc. Such niche has eased the niche bloggers to answer the questions of their niche. In it, you can search for category wise queries or also search by keywords. Together you can add up to 5 questions at one go. Together you have a quota of 100 questions. And as soon as you submit or reject questions, your quota comes back to you as well.
A feature of Question Hub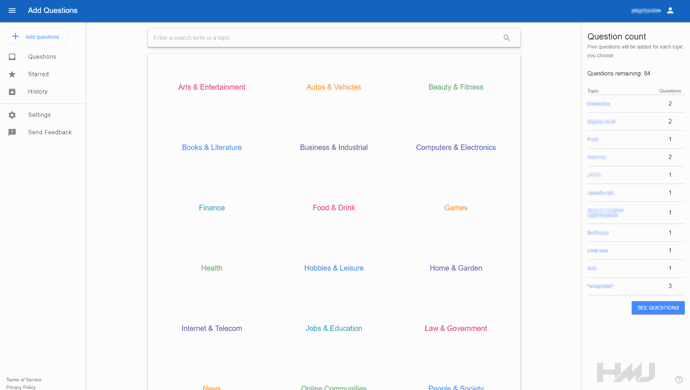 Well, there is currently no more features in the tool of the Question Hub, however, let's get some more information about them. This will make you easy to use them.
1. Questions
Through this feature, you can see all the questions in the question hub. You can also add them to answer the questions in which you need questions.
Adding a question is also very easy, in this, you have to click on Add Question, by doing so, there are two options in front of you. One is to search the topic wise and this is the second option to search through the keyword. You can add questions according to your own.
Note that only 5 questions can be added at a time. You can save questions in your account up to a maximum of 100 questions.
If you want to answer a question, then click the Auto Answer button in the side of the question and add a link to your article on it. And you can also submit them together.
If you do not know the answer to the question then you can use the status reject button in the side. This removes the question from your account forever.
2. Starred
Through this Starred option, you can starred those questions (or click on the star icon). This will add that question to your starred section and you can reply to it whenever you want. You can reply to those questions by visiting the starred section whenever you want.
3. History
Through this option, you can learn all the questions that you answered or rejected. Together you can also see the history of all of them.
4. Topics
Many tools have been categorized well in this tool, such as Arts & Entertainment, Beauty & Fitness, Finance, Games, Health or News. You can get questions on many topics like this. But in the current context, you can choose only up to 100 questions. And as soon as you answer or reject the question, your limit will also be recharged.
5. Settings
In this option, you have control over using the tool in your hands. Let's know about him.
Display Language: In this, you can choose your display languages, such as English, Hindi or any other side.
Question Language: In it, you can see which language you want to see the questions, as well as add language to it as per your need. Such as English, Hindi
Delete your activity or account: You can do two things in the first Delete your activity and the other is Delete your account and activity. If you want to reset your account and activity then you can do so here. But note that this is an irreversible process which cannot be repeated. Once he did, he can not come back and return.
Export your data: You can export all your activity from CSV File using this option. You can also download and view them and save them later.
6. Send feedback
With this option, you can easily contact the question hub team. For example, if you get any problems, you can use this option for help.
7. Question Count
In it, you can see the questions you have added and can also track their count.
8. See Questions
With this option, you can see all the questions added together.
How do you answer the questions in the Question Hub?
It is very easy to answer questions in the Question Hub. First, you have to log in to questionhub.google.com. For which you can use your email and password if you have access to Question Hub
1. After logging in, you will see the home page of Question Hub.
2. You can add questions to Click on Add Questions.
3. Click the Question-Answer button on the side of the question and submit your article link. If you do not know the answer then you can reject it.
4. With a Topic, you can add up to 5 questions at a time and add to 100 questions in total.
Note that here you submit the link to your website or blog post which you think will be right for users.
Benefits of using the Question Hub Tool
By the way, this tool is very new in which only very few features have been added but still this tool can prove to be very helpful for new and old bloggers or content creators (publishers). So let us know about the advantages of the Question Hub Tool.
1. The idea gets to write
The idea of content for a blogger is very much received by Miskil. So with this tool they can easily get ideas of Contents.
2. Users' Questions can be solved
Since the questions of users in question are placed in front of the publishers, their questions can be easily solved.
3. You can also increase the rank of your article in Google Search
If publishers also mention users' questions in their articles correctly, then their rank of rank can easily be enhanced in Google Search.
4. Increase traffic
By the way, you can not increase the traffic of your blog, but if your ranks of articles written well, then your traffic can increase eventually.
5. Can increase the quality of content
Often, bloggers are upset about the quality of their content, so if they use this tool, they will know that what they want to add to their content so that they can solve the questions of users, The quality of itself will increase automatically
6. Increase the visibility of the article
If you place people's questions in your article and share it in social media, you will be able to write uniques article and that will greatly increase the visibility of your article.
When and where was the Google Question Hub Event?
Google's Question Hub Event 14 December 2018, successfully received a confirmation in Delhi's Pullman Hotel, Aerocity.
How to Join Question Hub?
So far you people have got complete knowledge about the Question Hub Tool. And if you are eager to use this question hub tool, then you can join it and answer the questions in it. But, you can not join directly in this. For this you have to follow a few steps, let's know about it.
First of all, you can click on this link of question hub questionhub.google.com
Now a page will open in front of you, it will be given 2 options. Which is something like this.
1. One to log in and the other to sign up (if you have not yet created the account). In this second option, something would have been written: Express your interest to use Question Hub here. Click on "here", to proceed.
2. As soon as you click on it, your email inbox will open in front of you, there will also be an option to send an email. You have to add your full name, email and website link to it. After doing this, you have to send a question hub to the email. Or you can send a request for access to the Question Hub team from the link provided below.
If you guys like my post, then comment below and share this post as you can. and follow us on every social Media.